Roll over image to zoom in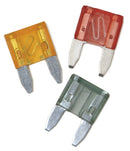 Description
Use Drop Down to Select from 2 to 35 AMPS
ATC Mini blade fuses (also called spade or plug-in fuses), with a plastic body and two prongs that fit into sockets, are mostly used in automobiles.
Dimensions: 10.9 × 3.6 × 16.3 mm
Click Here for ATC Mini Fuse Holders
Payment & Security
Your payment information is processed securely. We do not store credit card details nor have access to your credit card information.